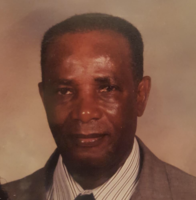 John Leslie "Mr. Johnny" Granville
John Granville passed away peacefully on March 25, 2018 at the age of 81. Worked at West Indies Glass Company for many years. He was a very kind and quiet person who loved to read the Bible and sing hymns. He will be deeply missed by his wife of 35 years, Angela Granville. He will also be missed by his brother: Clinton Granville, sisters: Una Miller and Joyce Granville, children Bridgette Sibblis, Roxie Roach, Josette, Sonia Arscott-Ashman, Ann Norris, many nieces, nephews, grandchildren, great grandchildren.
Family and friends will be received at St. John's Dixie Cemetery, Crematorium, and Visitation Centre 737 Dundas St. E., Mississauga, Ontario on Friday, April 21, 2018 from 6-8 PM. Funeral service will take place at the Westminister United Church 4094 Tomken Rd., Mississauga, Ontario L4W 1J5. Visitation Will begin at 10 o'clock until service time at 11 o'clock. Interment to follow at St. John's Dixie Cemetery.
Funeral Arrangements Entrusted To
COVENANT FUNERAL HOMES Inc.
(416) 265-2652 or (416) 459-2682